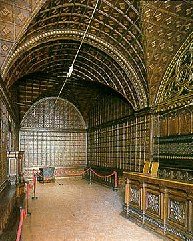 Collegio della Mercanzia
In
1390
Perugia, then a free city called
comune
, granted the premises to right to the gothic portal to the Merchants Guild, one of the most important in town.
Unusually for Italy, the
Sala delle Udienze
(Council Room) was completely panelled in wood in the 15th century, probably by German craftsmen.
The first section of the right hand wall is decorated with blind twin-windows and fretwork. The coat-of-arms in the lunette represents a griffin clasping a bundle of merchandise - the symbol of the guild.
The large Renaissance reading desk was made by a local craftsman in 1462. Against the left hand wall there is a small inlaid pulpit with columns, surmounted by bas-reliefs representing Prudence, Force, Justice and Moderation.
The
archives
contain inscription registers that run from 1323 to 1599.
Collegio della Mercanzia
Corso Vannucci, 25 [Palazzo dei Priori - old town centre]
Perugia, 06122

Open:
March-October every day from 9am to 12.30pm and from 2.30 to 5.30pm
November-February from 9am to 2pm (Mondays closed)
All year round Saturdays open from 9am to 12.30pm
Closed on: December 25th, January 1st, May 1st.


APM (Public municipal bus transport authority): stopped bus - Piazza Italia [only 100 meters away]
Linea 4, 6, 7, 9, 10, 11, 12, 13s, 13d, 15, 81, 82, 83, 87, bis28, bis33, bis34, bis41, bis44

Disabled access available