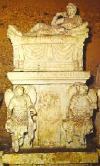 Ipogeo dei Volumni
Access is
by car
, along the SS 75 road towards
Ponte San Giovanni
:
before reaching the built up area of houses, to the left of a railway crossing you will notice a small 19th century building decorated with Etruscan style motifs. This building protects the entrance to the
hypogeum
(2nd century BC), which the biggest of the 38 graves found in the surrounding
Palazzone burial ground
.
The lavish hypogeum was discovered entirely by accident in 1840, during the building of a road. The excavation campaign that followed revealed the remainder of the
burial ground
.
A steep flight of stairs leeds to the travertine doorway, still intact, which bears a vertical three line inscription related to the construction of the tomb, owned by the
Etruscan Velimna family
.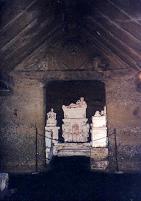 Ipogeo dei Volumni
The layout of the rooms around the atrium is the same as in Etruscan and Roman houses, with the difference that what appear to be wooden beams supporting the roof are in fact the ceiling that has been carved out of sheer rock. On either side, two doorways lead to rooms that correspond to what would have been the bedrooms, or 'cubicula'. The space then broadens into a further two lateral rooms and a main central hall, or 'tablinum'.
The entrance gable
, is decorated with a relief representing a shield with a
Gorgon head
, surrounded by dolphins. The gable opposite has another shield with a Gorgon head and swords, birds and two busts, one of which is hoding a 'kithara' , a kind of musical instrument.
Seven decorated cinerary urns have been placed in the 'tablinum'. They remain in their original position. The urn containing the remains of the head of the family,
Arnth Velimna
, stands at the centre on a base. The base is decorated with two winged female demons, or "vanth", that were precursors of genii in the Roman pantheon and have similarities with what came to be known as angels for Christians. They guard the painted entrance to the Empire of Death.
The urns are all made of travertine stone that has been covered with stucco. The only exception is a marble urn to on the left hand base that was placed here between datable between 50 and 40 BC.
The fact that the remaining rooms do not contain other remains indicates that either the family died out in the 'bellum perusinum' war of 40 BC or that they were obliged to look for another burial place within the three-mile area that Octavian Augustus allocated to the town of Perugia after its defeat.

Festival Velimna
Every September the city of Perugia organises a special cultural event called
VELIMNA - the Etruscans of the river
. View the official website at
Festival Velimna
Ipogeo dei Volumni
Via Assisana, Loc. Ponte San Giovanni [Perugia surrounding area] Perugia, 06100

Open:
Every day from 9am to 6.30pm. (9am-7pm july and august)
Ticket: € 3 - € 1,5 until 25 age; free until 18 age
Info: Ph. +39 075393329


APM (Public municipal bus transport authority): stopped bus, Ponte San Giovanni railway [take a taxi]
Linea 4, 92, 93

Disabled access available