Perugia-Sant'Egidio International Airport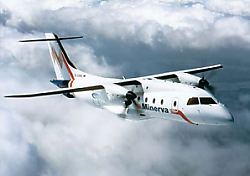 Fairchild Dornier 328
The small airport at Sant'Egidio, 12km from Perugia, is reachable by bus from the city from the bus stop in Piazza Italia and from the main railway station (see box). Parking at the airport is free of charge. All the chief national and international car rental companies have offices at the airport. National flights depart from Sant'Egidio for Milan Malpensa airport. International flights also leave from here.
HOW TO REACH THE AIRPORT
Bus Timetable from Perugia:
Departure Piazza Italia: 6.15am-12.50pm-4.50pm
Departure Railway F.S. Station: 6.30am-1.00pm-5.05pm
Arrival Airport: 7.00am-13.30pm-5.25pm
Bus Timetable from the Airport:
Departure: 2.40pm-5.50pm-9.50pm
Arrival Perugia Railway F.S. Station: 3.10pm-6.20pm-10.15pm
Arrival Perugia Piazza Italia: 3.15pm-6.30pm-10.25pm
From the Airport to Assisi there isn't any bus (but some Assisi hotel have a pick-up service), best way to get to Assisi is by Taxi or renting a car.
INFORMATION
TEL - HELP DESK: +39075592141
TEL - TICKETS: +390755921400
TEL - MANAGEMENT: +390755921433


website Aeroporto Perugia


The nearest international airports to Umbria are Pisa (230km NW of Perugia), and Rome (210km SW of Perugia).
Where to stay - Perugia OnLine advise:
Valle di Assisi Hotel & Resort - Charme Country Hotel
, set in the rolling valley near Assisi, just 10 minutes by car from the old town centre of Assisi and
just 10 minutes by car from the International Airport of Perugia
.