The parking lots and parking areas in Perugia are run by the firm
SIPA S.P.A. - Società Immobiliare Parcheggi Auto
Via M.Fanti 2/b - 06122 Perugia Tel. 075 5721938 - Fax 075 5732408
URL: www.sipaonline.it email: info@sipaonline.it
SIPA has 6 parking lots in the city for 2,100 places, as well as a series of parking areas that can accomodate a total of 1,200 places. The parking lots are mostly equipped with lifts and escalators that are free of charge and ensure an efficient connection to the city centre.
The following informtion is taken from the SIPA website, which can be accessed for further details.
[Click on the map to enlarge]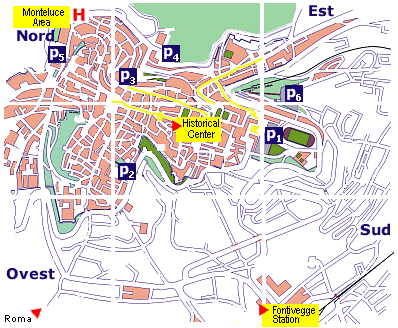 Piazza Partigiani Parking
: Comfortably connected to Piazza Italia right in the centre of town via a series of escalators that run through the ancient Medieval distrit through the Rocca Paolina. Exhibitions and other cultural events are frequently organised in this area. The parking is very close to the Chamber of Commerce, the INPDAP and the foreign language school for the army. Ideal for tourists.
Viale Pellini Parking
: Open air parking on two levels equipped with a prefabricated modular "Fast Park' structure. Connected to the old town via an escalator. The parking offers easy access to the old town, the Teatro Comunale Morlacchi and the public swimming pool (currently being refurbished).
Mercato Coperto Parking
. This is the closest parking to the old centre but limited places mean frequent queues at the entrance. Connected to the central Piazza Matteotti via two escalators. Not adviseable for tourists.
Briglie di Braccio Parking
. Near the central Mercato Coperto parking, this offers a valid alternative in the event of queues. Connected to the old centre via two large lifts that get clients into the old town within a matter of minutes.
Viale Sant'Antonio Parking
. In the northern area of town near the Etruscan Arch and the Foreigners University. Within easy reach of the centre and the university area.
Piazzale Europa Parking
: Opened in May 1999, this structure is equipped with up to date technology. It is part of an architecturally upmarket urban development area with large open spaces (squares for markets, open air theatre areas, gardens, ecc.). The structure has three lifts and three sets of escalators. Near the Chamber fo Commerce, the ASL n. 2 and the Anagrafe office of the Comune di Perugia. Ideal for tourists.

scala mobile